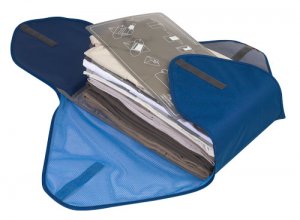 With the busiest travel day of the year approaching, I am almost certain that packing is on your mind.  You might be asking yourself, "can I make it all fit in one bag?," or "how can I avoid everything getting wrinkled?"
Here are a couple of tricks that I always recommend to help maximize the space in your luggage and help prevent those pesky wrinkles.
Always put your heavier items on the bottom of your luggage; items such as jeans, bulky sweaters and footwear.  Keeping each layer lighter than the layer below it will help prevent creasing.
Utilize travel accessories such as the Eagle Creek Pack-It Folder – this item helps your tops stay wrinkle-free by keeping them neatly folded and secure so they don't shift around during your travels.  It also makes it easy to access your clothing and keep it neat during the stay at your destination.
Roll items such as t-shirts, sweaters, undergarments and jeans.  This will not only help you maximize your space, but it will also help minimize wrinkles.  Placing a sheet of heavy tissue paper, plastic or packing paper before you roll will take your wrinkle prevention one step further.
If traveling with a garment bag, keep your items lined with the plastic from the dry cleaners.  The plastic will help prevent wrinkling.
I hope these quick tips help you arrive neatly pressed at your destination this holiday with everything you need.