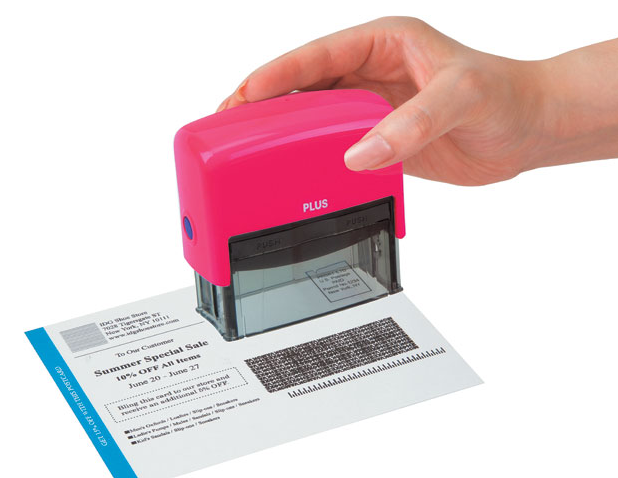 With tax time around the corner, many of us will be sorting through papers and throwing away documents that could list sensitive information such as bank numbers, addresses, full names and social security numbers.  As I mentioned in my recent newsletter, identity theft affects millions of people every year and it is not an issue that should be taken lightly.  While some people actively try to prevent identify theft by shredding all their documents, many still do not.  Their reasoning for not shredding documents can range from not liking the noise of a shredder to child safety.  Whatever the reasoning may be, I have recently discovered a simple alternative – the Guard Your ID Stamp.
Sold everywhere from the Container Store to QVC, the Guard Your ID Stamp, is a quick and easy way to prevent your sensitive information from landing in the wrong hands.  All you need to do is stamp the information you want blocked and the Guard Your ID Stamp's unique pattern completely masks your information.  Even when holding it up to the light or changing the angle of the light, nothing comes through! Plus, since most waste management companies will not recycle shredded paper (shredding weakens fibers and makes sorting nearly impossible), the Guard Your ID Stamp is the greener solution to your identity protection.
While I still recommend using a shredder or shredding service for large amounts of sensitive information, the Guard Your ID Stamp is perfect for managing everyday mail and small projects.