While I know that most of us are just starting to pull out our holiday decor to decorate our home and tree(s), I want talk about packing it all away.  Yes, that is right.  I want you to think about the end of this wonderful holiday season and the dreaded task of de-decorating.
Now, I am not trying to rush to the end of the season due to a lack of love for it; after all, this is one of my favorite times of year.  However, I want you to think about the end of the season so you can start prepping for it now in order to save time and make things flow more smoothly in the future.
While you are unpacking your ornaments and holiday decor this year, take note of the condition of your storage containers – What is broken?  What needs to be replaced? What needs better moisture protection?  What valuables could be better protected?  Make a list and start shopping for these items and containers as you are doing your holiday shopping.  Since you will already be out shopping or flipping through catalogs, it is the perfect time to gather the new ornament boxes, light boxes, wreath boxes, etc. that you will need to store your items safely at the end of the season.  Starting to shop for the items now will save you time and prevent you from making special trips in the future, which will make the de-decorating process much easier and ensure there are no excuses not to have the proper materials to pack away your holiday decor in an organized manner.  Plus, if you start gathering the storage items now, it will give you ample time to watch for sales on the items that you need and allow enough time for delivery on the items that you order online or through a catalog.
To help you get started, here are a couple of products that I love for holiday storage.  I recommend trying to purchase any storage items in the appropriate holiday colors to make it even easier to quickly identify your holiday items within your storage area.
Snap N' Stack Ornament Storage Box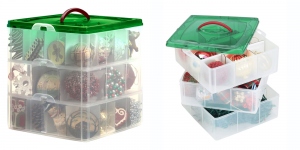 The Snap N' Stack Ornament Storage Box helps keep your ornaments safe and easily accessible.  The separate snap-on layers allow you to access each layer of ornaments independently so you don't have to worry about taking all of the ornaments out from one layer before getting to the next (as many other storage containers do).  These boxes also serve as great storage solutions for ribbon, bows, gift tags, and other small holiday items.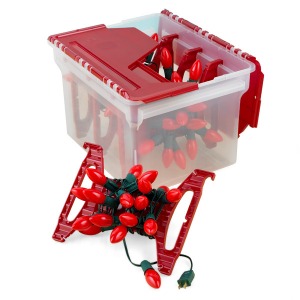 The Wing-Lid Light Storage Box allows you to not only keep your lights safe from breaking, but it more importantly keeps them tangle free!  The container comes with four, plastic Light Cord Wraps that allow you to easily store your lights at the end of the season and quickly pull them out to begin decorating next season.  These containers also serve as a great storage solution for holiday garland.