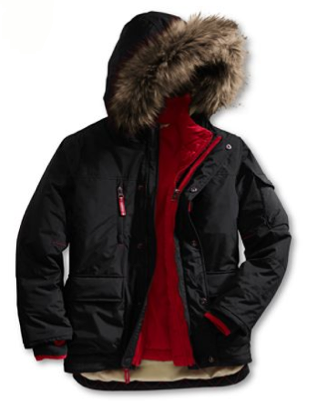 As a child, I remember my mother always buying clothing for me that was a bit too big so that it would fit me for more than season.  While I may have looked like I was drowning in fabric one year, the following year it was almost guaranteed to fit perfectly.  Even though I always wanted my clothing to fit properly from the beginning, as I look back I really can't blame her for doing this as it was cost effective and efficient (two characteristics that I now have a business focused around).
Today, despite not having children of my own, I know that this issue still plagues mothers and their children as they shop annually for new sneakers, sweaters, pants and jackets while trying to beat the inevitable growth-spurt.  This is one of the reasons why I was so fascinated to discover the Lands' End Grow-A-Long coat when I was recently visiting a friend during his sons' play date.  I was so excited to find that Lands' End had created a jacket that will grow with your son or daughter to allow for at least two, maybe three seasons of wear!  Finally, someone had incorporated efficiency and functionality into clothing in a way that went beyond just versatility.
The Grow-A-Long feature, available in both snow pants and jackets for boys and girls, allows the garment to grow up to an additional 2 inches on the sleeves and pant legs.  The extra material hides unnoticeably inside the sleeve or pant leg and is easily released by snapping a thread.  In addition, not only are the garments efficient, but they are also stylish, warm and versatile.
This amazing feature, coupled with the quality that Lands' End has come to be known for, makes this line of clothing an excellent choice for children.  It will not only save families money, but it will also save them from the build-up of out grown clothing and trips to the local donation drop-off.
Lands' End Grow-A-Long Clothing for Boys and Girls